The cottage: cosy, homely, comfortable. Unless it's been abandoned in a hurry, that is… Scary season is upon us and you can hardly switch on the TV without accidentally tuning in to a horror movie, many of which are set in abandoned houses. Holiday cottages might be all pretty gardens and gorgeous furnishings, but cottages that have long since been left behind are altogether different. Whilst we'd never recommend heading inside a crumbling structure (dodgy floorboards and roofs being a big potential danger), for a growing number of urban explorers and photographers, venturing into unoccupied buildings is the perfect pastime. We take our (fancy dress witches') hats off to the brave people who set foot inside these crumbling cottages and dared to click. The results? Compelling images of decay and desertion, many with an edge of eerie beauty…
1. Abandoned Cottage near North Hudson, New York
With its rickety steps and peeling façade, this forest cottage looks creepy enough from the outside, but inside it just gets worse. What could be more terrifying than those dolls? Actually, the third photograph doesn't look at all dissimilar to the average teenager's bedroom, but keep scrolling and you'll find even more weirdness: a bathroom filled to the brim with pine needles and a bed covered in mould and vegetation. Wonder why the previous occupants left in such a hurry?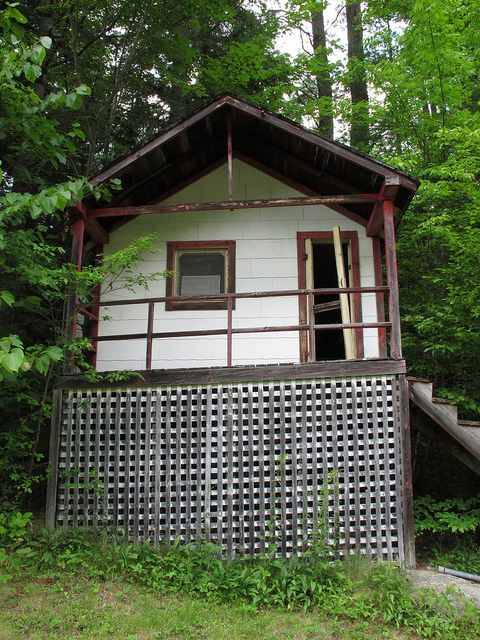 Image Source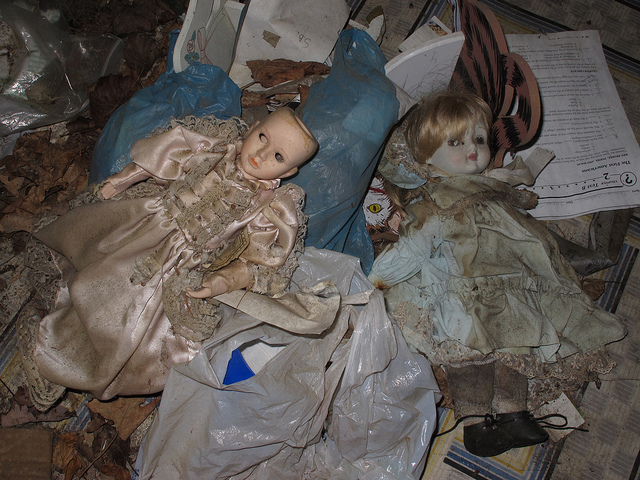 Image Source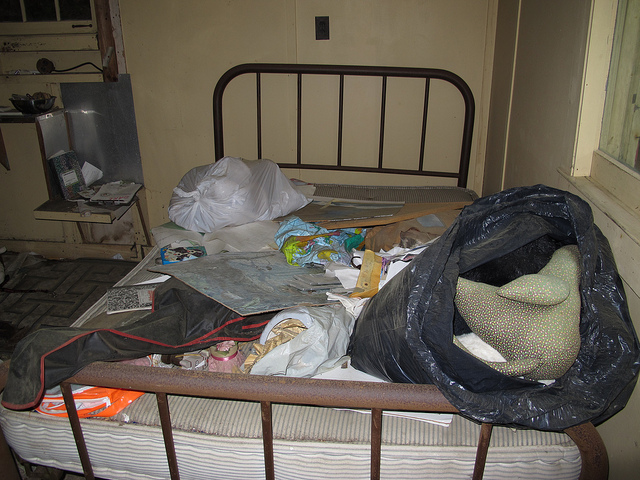 Image Source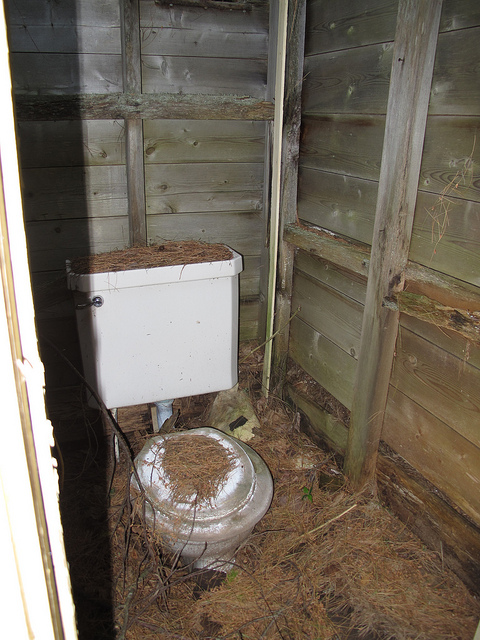 Image Source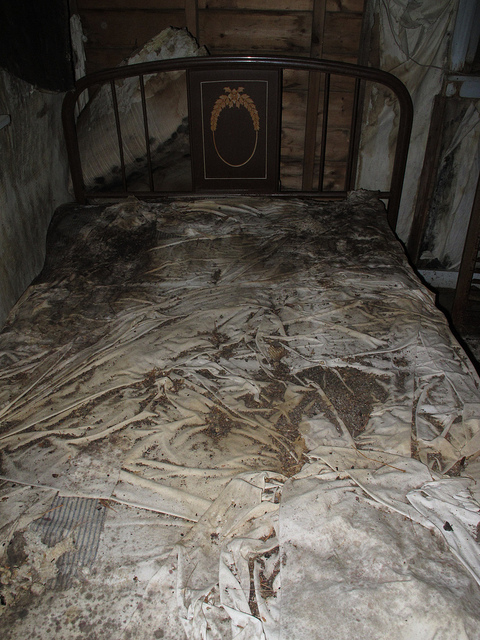 Image Source
2. Elgin Springs House, Panton, Vermont
This entrancing house is being slowly swallowed by nature. It has an interesting history: it once housed a business capitalising on the supposedly medicinal qualities of the area's local spring water, which was said to purify the blood. Built in 1845, it originally comprised only the small cottage on the left, with the larger part of the house being built on in 1850, when the business opened. The watery business closed down in 1870 and the house became residential, but it has been listed as condemned since the seventies. Vines, leaves and trees snake their way through floorboards and beams, with only the occasional reminder that people once called this home in sight. A tatty teddy bear and a dismembered doll up the creepiness factor.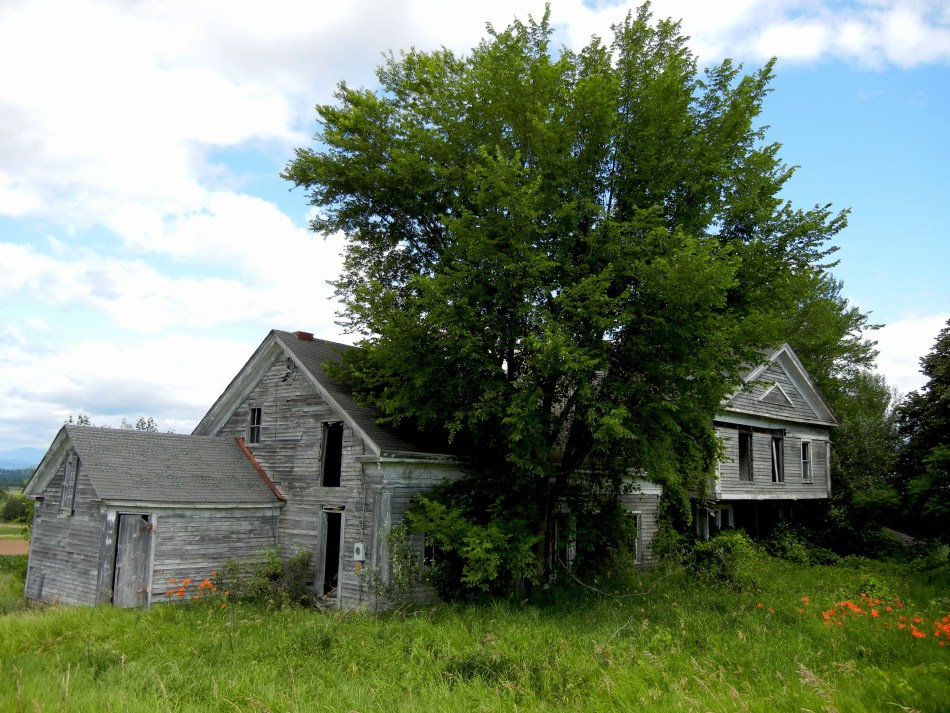 Image Source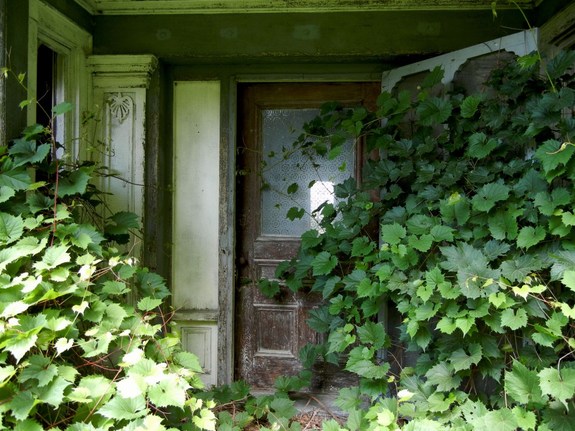 Image Source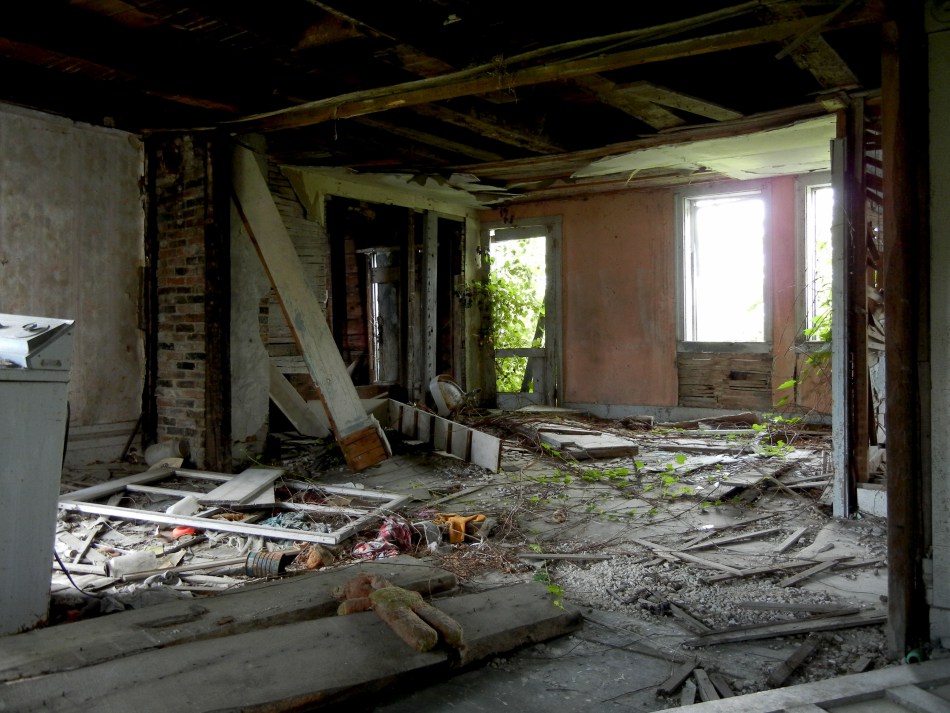 Image Source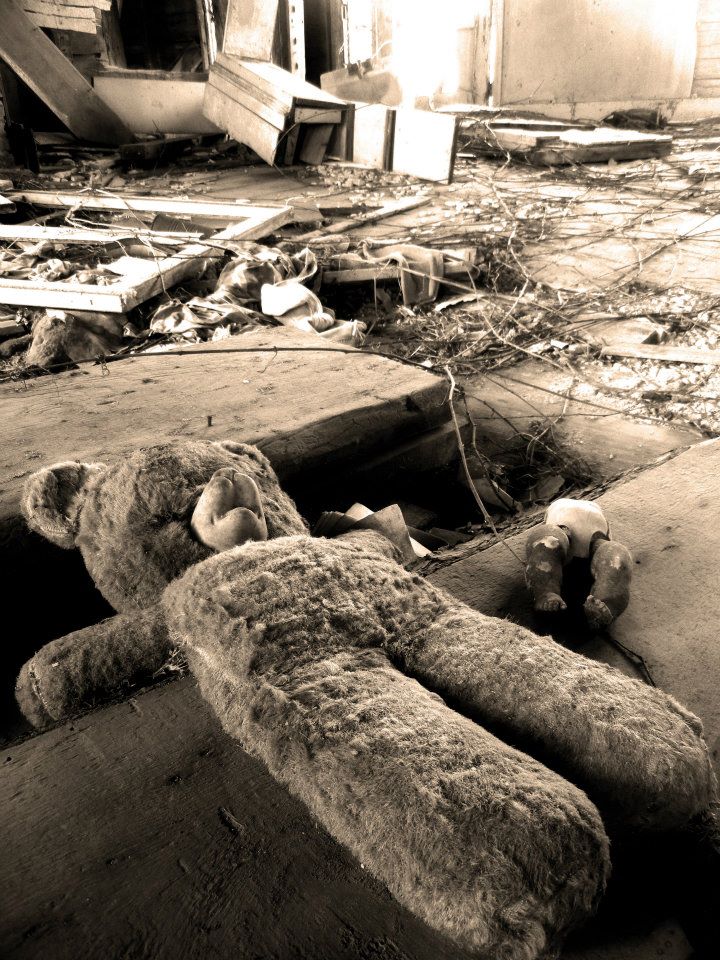 Image Source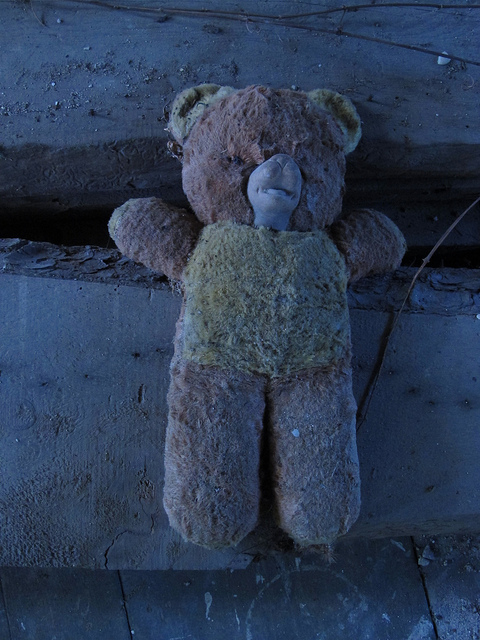 Image Source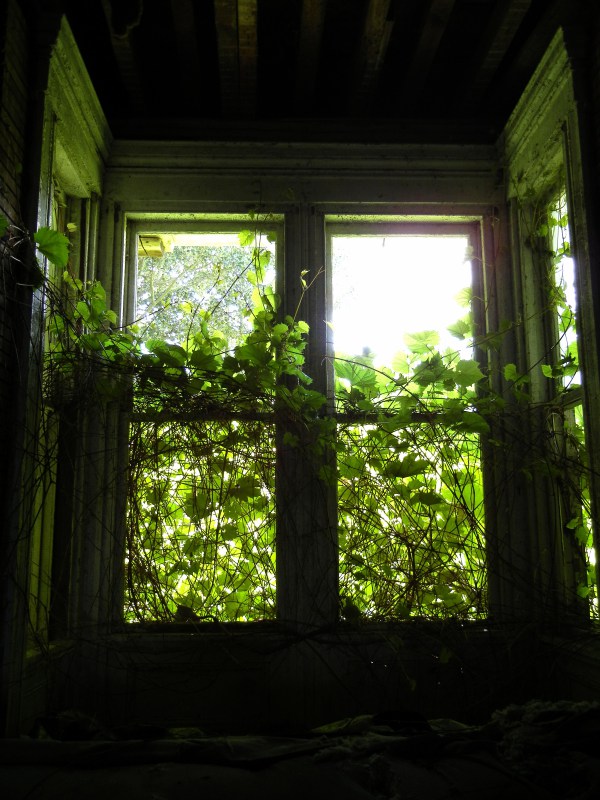 Image Source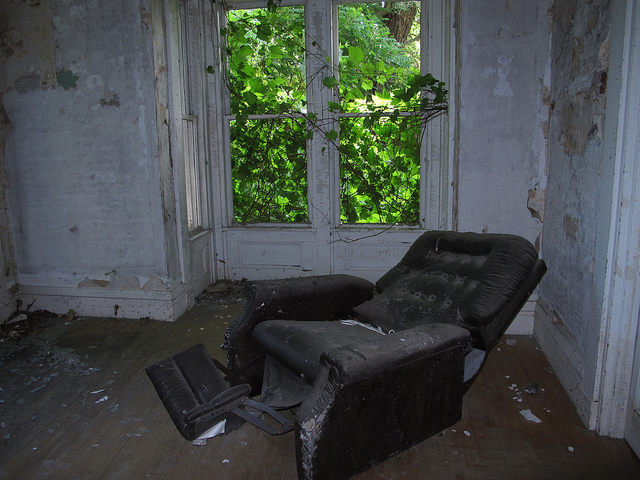 Image Source
3. Abandoned House, Florida
Tucked away among jungle vines and palm trees, this deserted cottage looks like it came straight out of a horror film. Inside, the limited light is tainted green by the vegetation that crawls up its sides. Wood splinters and rots and dried leaves litter the floor. But what is perhaps the scariest thing of all about this building is the dead rat: found hanging from a wire noose and enveloped in cobwebs, it could be a prop from a ghost train or a Halloween party. Sadly (and terrifyingly), it's real.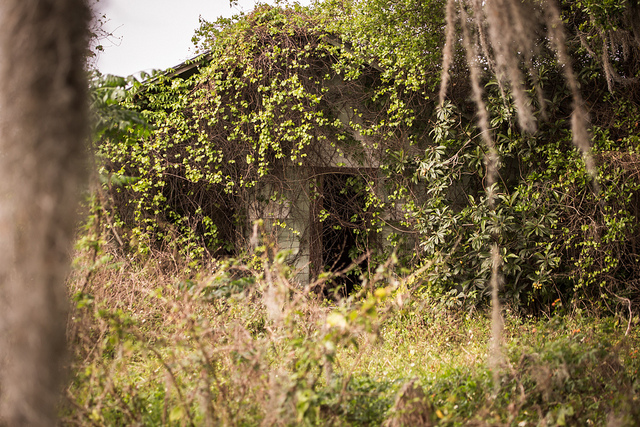 Image Source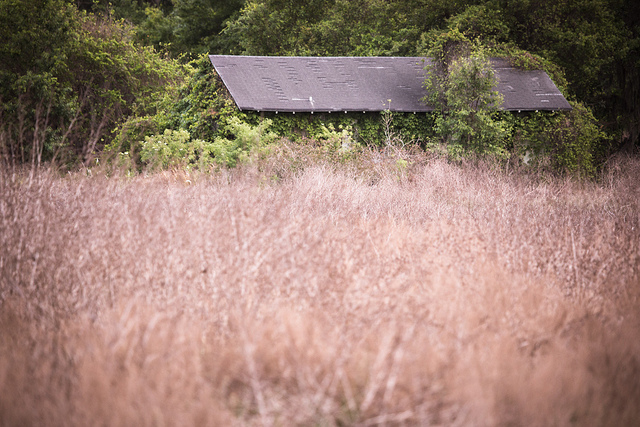 Image Source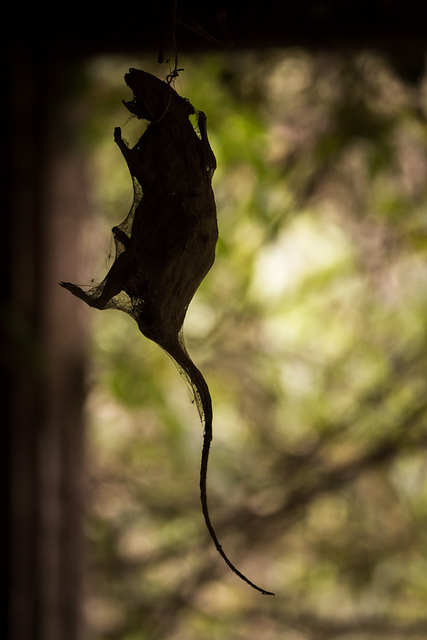 Image Source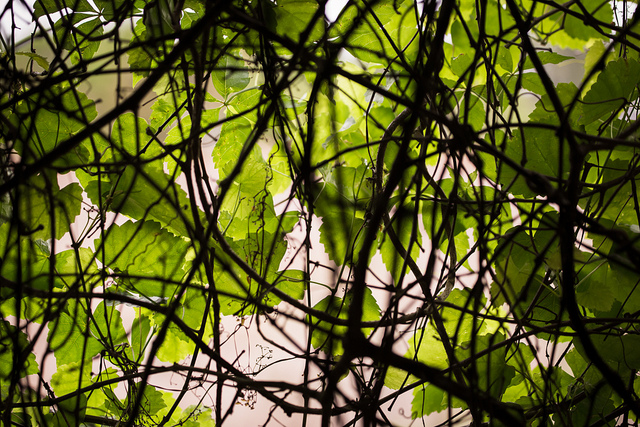 Image Source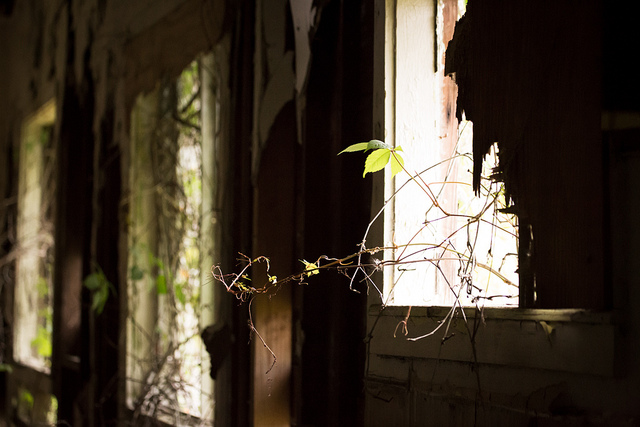 Image Source
4. Leaning Cottage, Crapaud, Prince Edward Island, Canada
As if being in a place called Crapaud wasn't bad enough, this wonky cottage is in a sorry, crumbling state. Standing on its own in the middle of a field, it looks like a lonely place to be. Even more so now it's uninhabited, with its door hanging off its hinges and its window panes long gone. With its crisp, blue sky background and lush meadows, it could make a scenic place to stay. But for now, it is completely empty – apart from a load of rubbish. Inside its mouldy walls, furniture and broken wood lie broken and singed on the floor and not even the sunlight can lighten the mood of the place.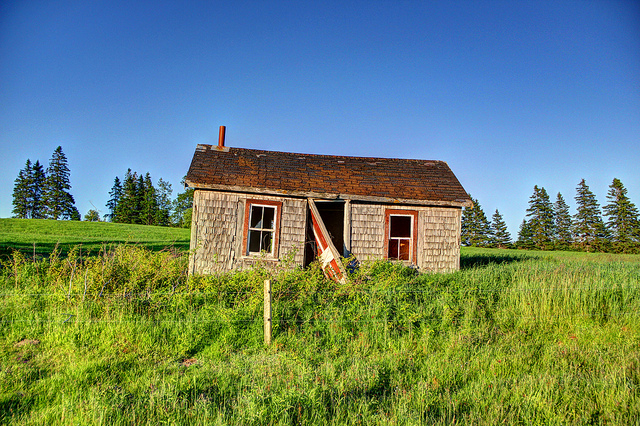 Image Source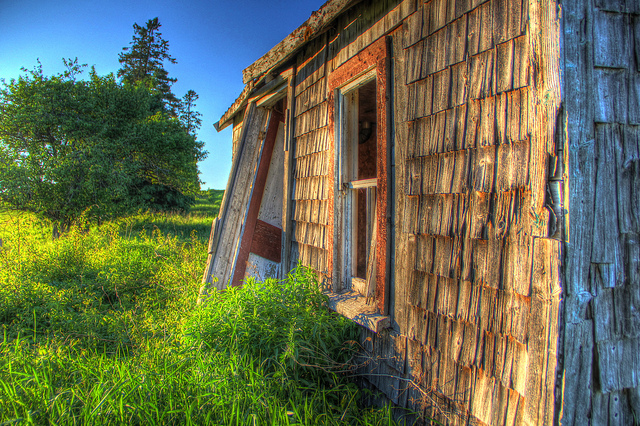 Image Source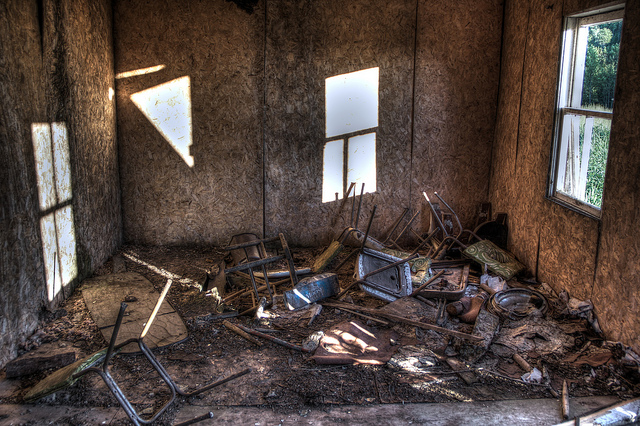 Image Source
5. Secluded Cottage, Dava Moor, Morayshire
In northern Scotland, the secluded wilderness of Morayshire is a paradise for self catering holidays. With its coloured windows, you can imagine it looking quite appealing if it was restored. Sadly, it's in a state of disrepair. Inside, the wallpaper is damp and mouldy and names are scratched chillingly into the old fireplace. One of these reads 'Mam'. There's also an empty beer bottle on the mantle piece – nice place for a relaxing beer after dark, we're sure.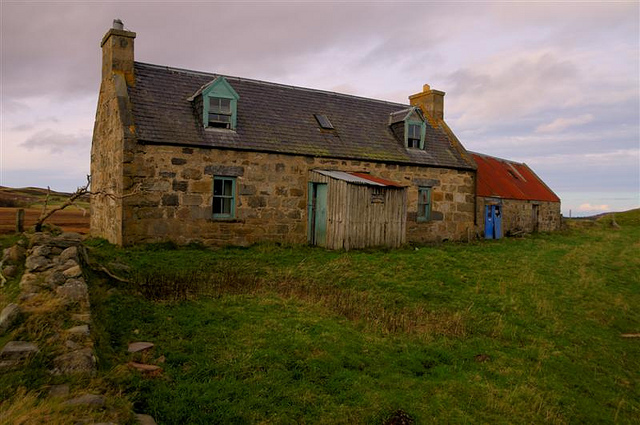 Image Source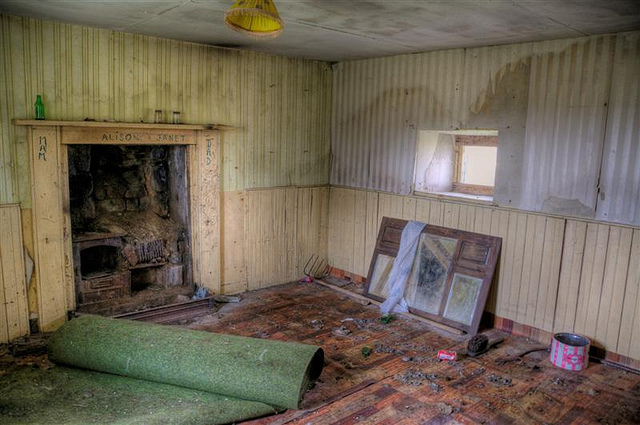 Image Source
6. Abandoned cottage, near Aberystwyth, Wales
This coastal cottage in northern Wales would make a seaside holiday home – were it not totally deserted. The exterior is crawling with ivy and overgrown vegetation. The photographer battled through all that and ventured beyond the smashed windows. Inside, the peeling paint on the walls leaves a beautiful patina. There's also a very retro radio and a lot of rust and dust. The image of the window shows the silhouettes of the plant matter that is slowly winding itself around this once quaint home.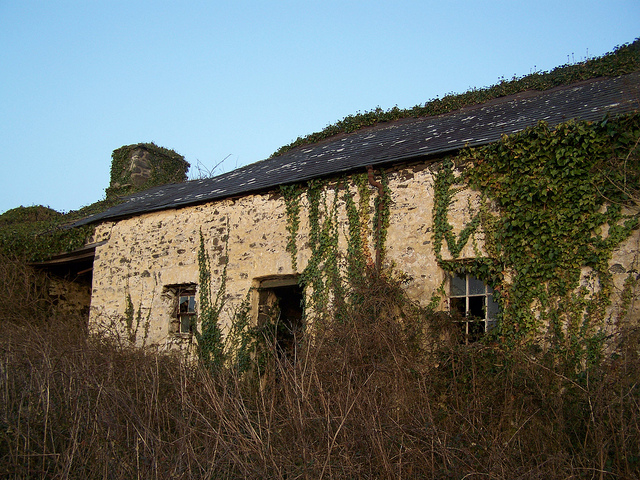 Image Source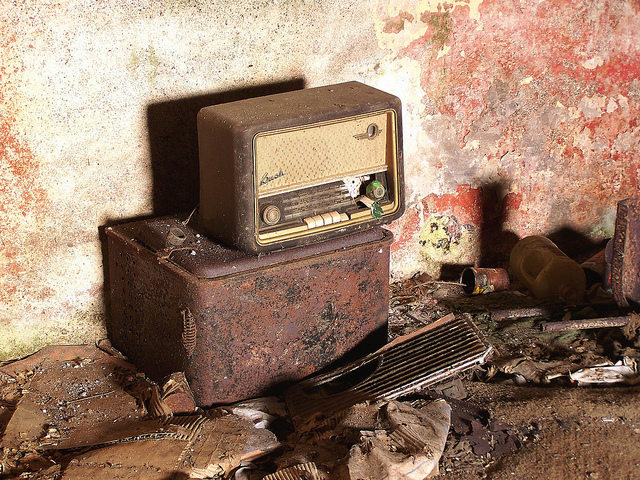 Image Source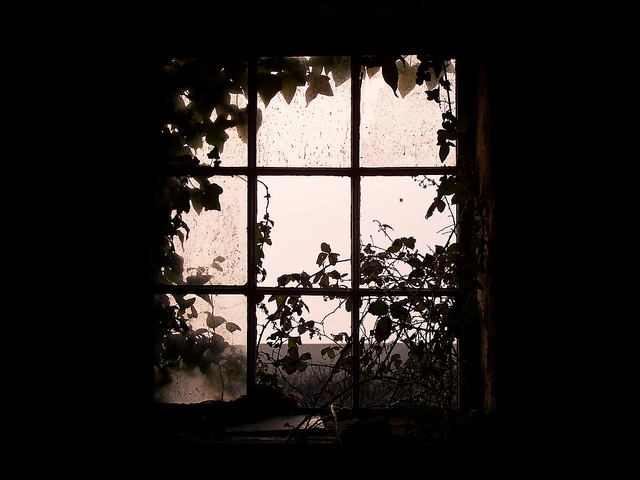 Image Source
7. The Wildlife Cottages, Finland
Photographer Kai Fagerstrom captured these images at ramshackle woodland cottages close to his summer house. There's a sad tale behind the shacks: they were abandoned by their tenants after the landlord died in a fire. Fagerstrom realised that the cottages were gradually becoming occupied by the animals of the wood. We imagine the creatures make some pretty scary sounds when they're scratching around in the dark rooms, but Fagerstrom braved the interior to capture these breathtaking images of nature making itself at home.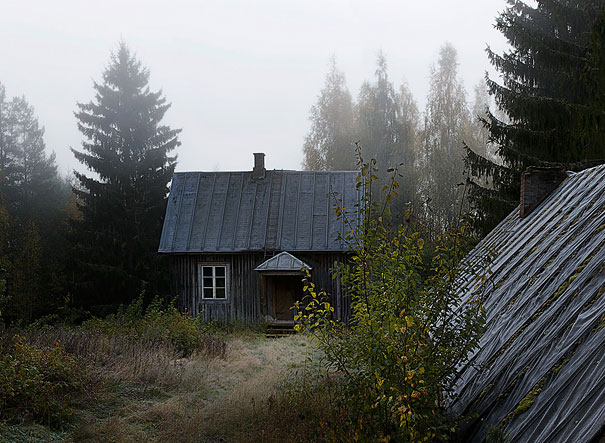 Image Source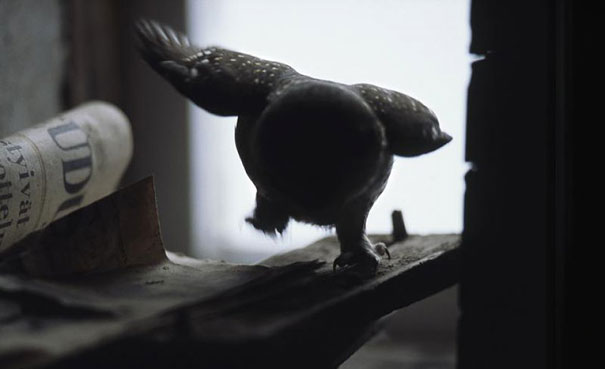 Image Source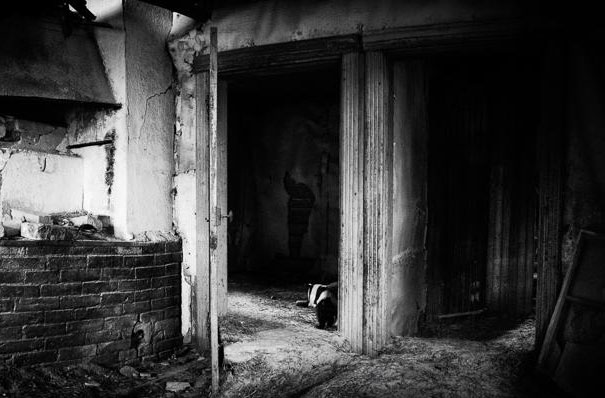 Image Source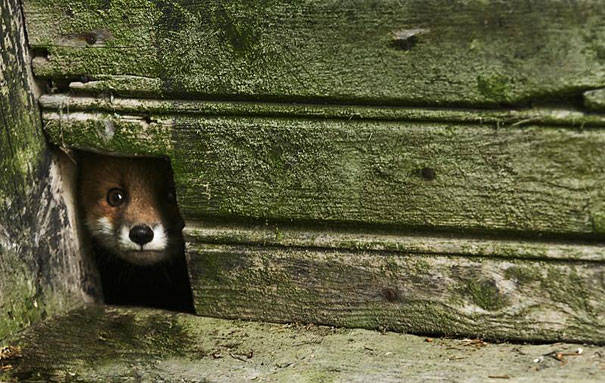 Image Source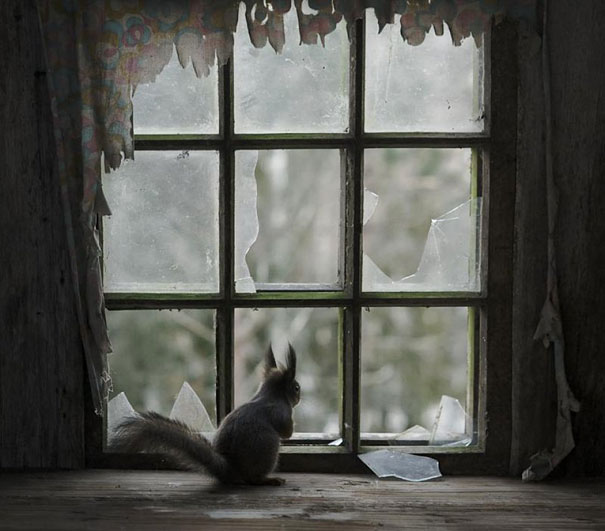 Image Source
8. Fulling Mill Cottage, Fittleworth, near Pulborough, West Sussex
When Fred Saigeman died in 2010, he left his tumbledown cottage to a local cat charity, on one condition: that they looked after the 82 semi-feral cats he'd shared the home with – and prevented the abode from being demolished or redeveloped. When workers from the charity entered the property to feed the felines, they were shocked to find the state of decay the former teacher had been living in. Tucked in acres of gardens and woodland, the once-quaint home was filled with cobwebs and peeling plasterwork. Beautiful dishes are lined up on rusty racks, with spider webs woven between them. Once upon a time, the cottage was a popular holiday home, run by Fred's mother and father. The guest house closed in 1959 and a yellowed visitors' book is filled with testimonials from happy guests. One entry from the Second World War reads: 'We could not wish for anything better than a thatch cottage for our honeymoon. A lovely week with the sweetest couple: a comfy bed, where I have slept all my tiredness away… Thank you for your unfailing kindness and help during the years of evacuation. Hillside [the cottage's former name] has been an oasis. A beautiful spot taken out of a fairytale.'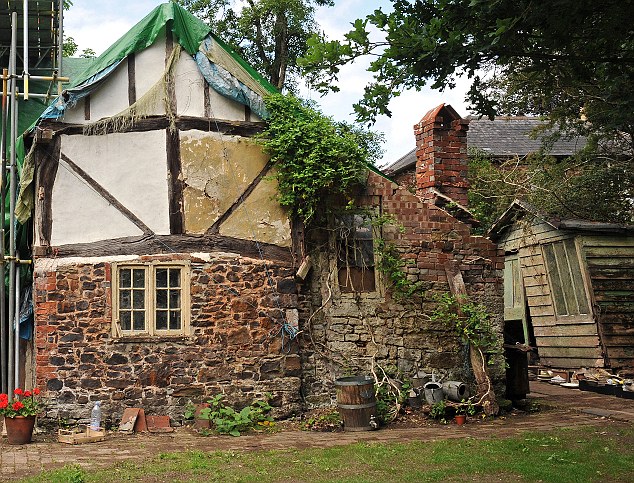 Image Source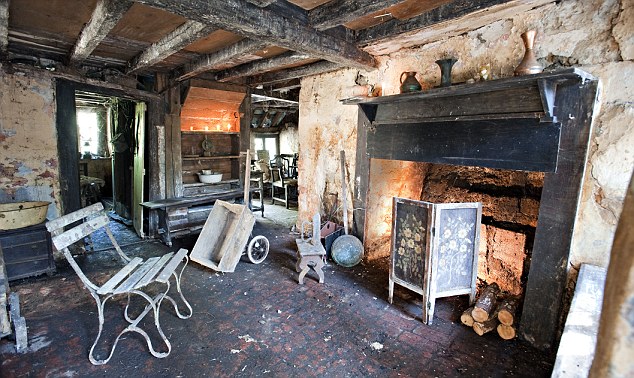 Image Source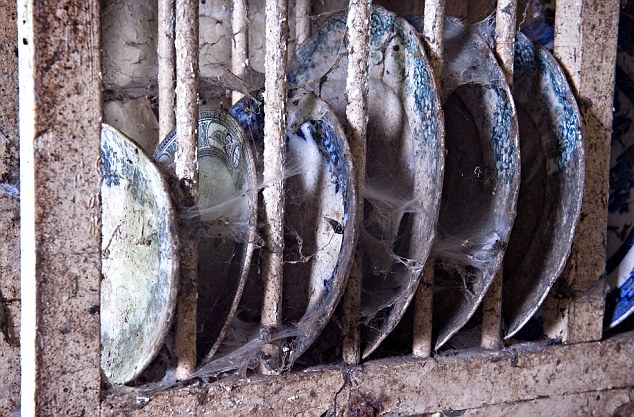 Image Source
9. Dilapidated Farmhouses, Western Europe
Gutsy Dutch photographer Niki Feijen made a whole photography project, 'Disciple of Decay', out of these abandoned farmhouses, at various locations throughout Western Europe. Curiously, the the rural homes have been left in surprising condition, with beds still made, books on shelves and suits hanging up. Lopsided lampshades, grand candelabras and mouldy dolls lay still and untouched beside crumbling plasterwork and damp décor, creating images that are irresistible, as well as slightly unsettling…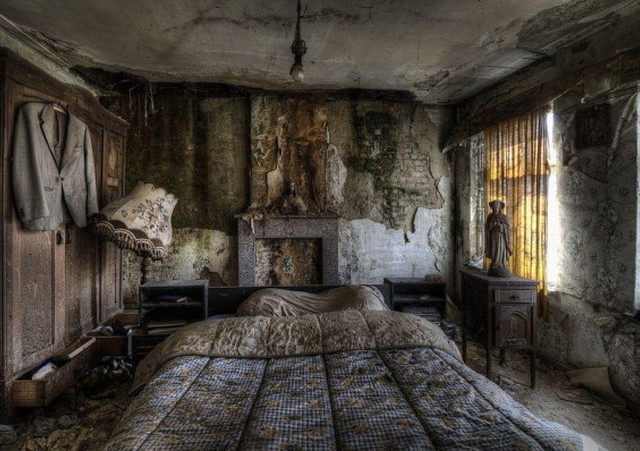 Image Source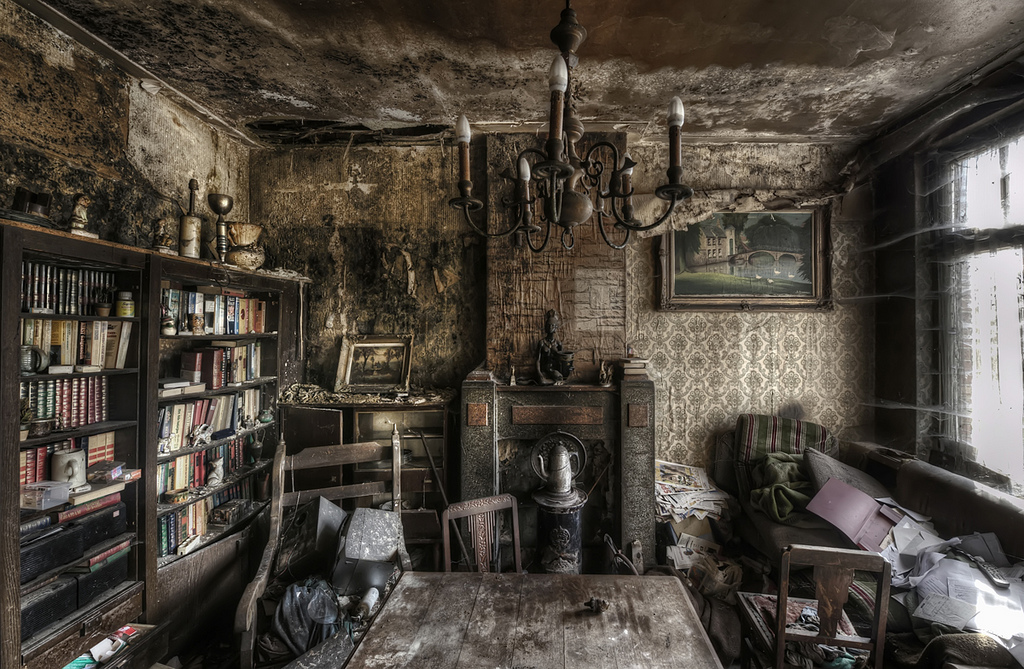 Image Source